AXOR 'one', designed by barber osgerby, shifts the achetype in two ways. the new collection of washbasin, bathtub and shower fittings expands upon the interactive control element for the shower – revealed in 2015 – and the corresponding hand-held shower in 2017. the complementary products refine the familiar shapes with greater clarity, enhanced function and empowering control. they evoke an exquisite elegance to any bathroom. however, furthering the exploration of 'compact luxury' – a megatrend identified by AXOR that questions the future of urban living – the british designers use the 'one' collection to reimagine personal spaces. three exclusive bathroom concepts capture this idea of 'compact luxury'.

with the AXOR 'one' collection, barber osgerby imagines three bathroom concepts that capture 'compact luxury'
all images courtesy of AXOR
with 31-pieces, barber osgerby shapes the AXOR 'one' collection in a unified design language of slender silhouettes, flat surfaces, soft corners and balanced proportions. the gentle taper to the faucet's curved spout accentuates this aesthetic. the overhead showers and hand-held showers feature monolithic forms with spray discs that hint at the rain or powdertain spray types available. a slim, all-in-one showerpipe combines the overhead shower, hand-held shower, wall bar and wall outlet for a clean look.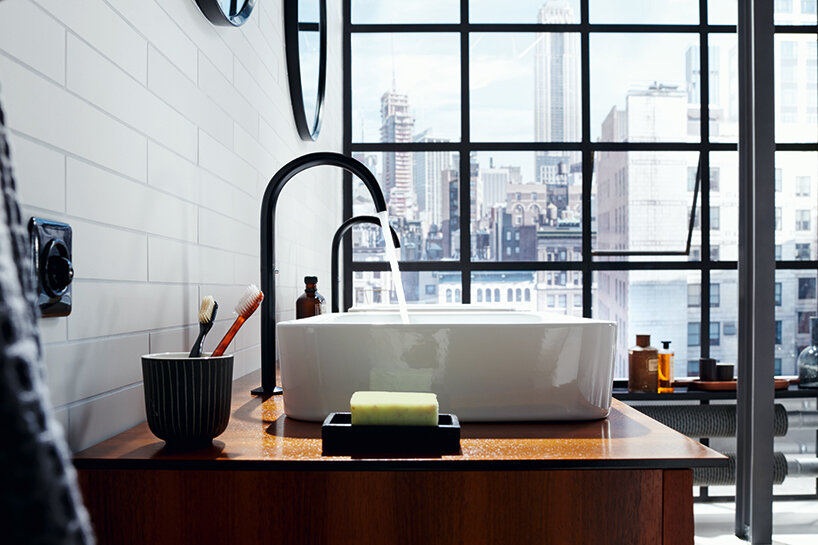 slender silhouettes, flat surfaces and soft corners shape the washbasin, bathtub and shower fittings
the collection is powered by advanced select technology that offers a new mode of interaction as users' press down on its all-in-one controller to start or stop the water, and turn clockwise to increase the temperature. this means, for faucet or even the shower spray types, the thermostatic module enables highly responsive, precise control for a personal well-being experience. each product is available in chrome, matt black and an array of exclusive AXOR finishplus surfaces.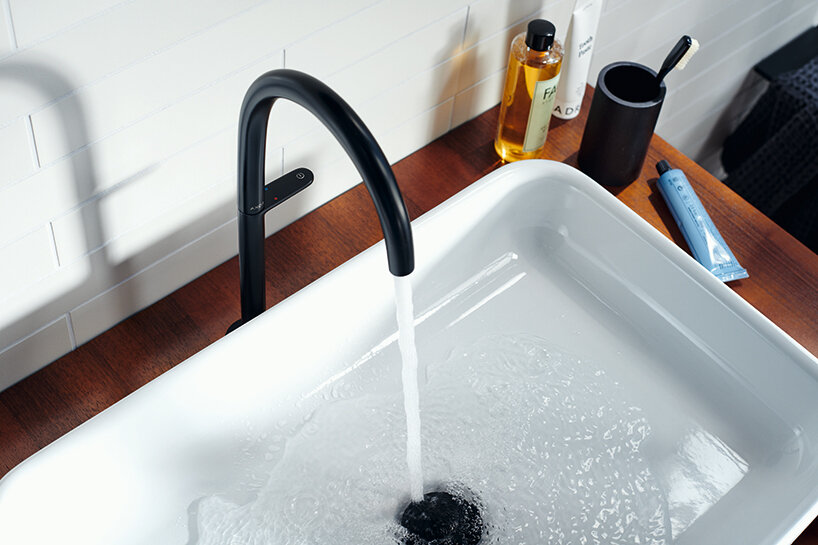 in matt black, AXOR 'one' faucets sit atop double washbasins
in the first of three bathrooms conceptualized by barber osgerby, the 'contemporary industrial' is fashioned in a new york loft-style, as if revitalizing a former factor. the residents have appointed a large share of their limited living space for a bathroom that doubles as a recreation area. industrial windows offer views across the city, flooding natural light into the spacious double-height interior with exposed brickwork and steel beams. a modern free-standing bath and floor-standing bath faucet in matt black take center stage. adjacent, AXOR 'one' faucets sit atop double washbasins mounted on a long, vintage wooden cabinet. beneath the mezzanine, inhabitants step down into a large double shower area.
'space is really important, and I think what has happened historically is that the bathroom has always been confined to a really tiny space. think that, where possible, it's great to be more generous with the footprint for that room, which is why, in our design concept for a new york loft bathroom, we appointed a large share of the limited living space in the city for a bathroom as a recreation area,' explains jay osgerby.